---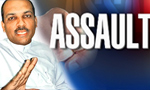 A youth has made a statement to the Pallama Police that State Minister for Skills Development Palitha Range Bandara had assaulted him while he was returning home after attending a funeral.
The incident is said to have taken place near the Pallama Town on early Saturday.
The youth, Thusitha Madusanka (22) said he was handed over to the police by the State Minister after being taken into custody by his security officials when he crossed the road under the influence of liquor.
Police had admitted the man to Chilaw General Hospital to ascertain whether he was drunk at the time of the incident. However, the man told the Daily Mirror that he was assaulted by the State Minister injuring his ear and leg when he was returning home after a funeral.
Denying the claim made by the man the State Minister told a gathering in Puttalam on Saturday afternoon that he just handed over the man to the police but did not assault him. He further told that the man claimed that he was hit in the ear while saying that his leg had been injured.(Jude Samantha)