---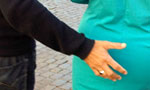 A youth had groped the buttocks of a married woman at a crowded carnival where people were pressing close to each other. This had led to a heated argument with the woman's husband.
The youth, who has been described as a medical student, had then assaulted the husband. He was remanded by the Badulla Magistrate Ms. Ruwandika Marasinghe yesterday
The suspect medical student is a resident of Haliela. Producing the suspect in court, Sergeant Ratnayake of the Badulla Police Children and Women's Bureau said that, at a carnival held on the Badulla public grounds, the suspect had groped the buttocks of a woman as the crowd was milling about.
The woman had complained her husband who had been present. He had questioned the suspect and, during the ensuing argument, the suspect is alleged to have assaulted the husband, who is now warded at the General Hospital, Badulla .
Attorneys Heminda Dayawansa and Ms. Nelum Gamage, representing the suspect, told Court that there was no sexual harassment as stated by the police, and requested bail as the suspect was a medical student.
The magistrate, having considered the submissions of both parties, remanded the suspect till January 14th.(Piyal Kithsiri)