---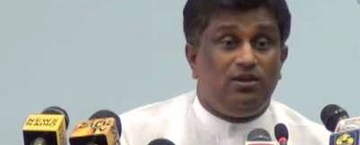 Neither the President, the Prime Minister nor any other minister had given orders to arrest former President's son Yoshitha Rajapaksa a deputy minister and a state Minister said today.
Deputy Minister Ajith P Perera and State Minister Ranjan Ramanayake made these remarks while speaking on behalf of the government on the recent arrest of Mr Rajapaksa.

Deputy Minister Perera told a media briefing that Mr Rajapaksa was arrested after a complaint was lodged by the organization named Citizens for Just Society. He said the suspect was arrested in connection with money laundering. Further he said Mr. Rajapaksa had worked as the Chairman of CSN violating the Establishment Code which says a public servant cannot engage in any business while working for the state. It was also alleged that none of the officials of CSN who was questioned had been able to say how it had got US $ 2.3 million to the capital of the company. He said there were several allegations against the suspect.

He said the arrest was a result of investigations carried out for almost a year and it was not an act of political victimization. "Everyone is equal before the law and there are more allegations against Mr. Rajapaksa and I suggest he be court martialled" he added.

State Minister Ramanayake said the present government's ruling style would even allow its own MPs to be probed. Accordingly he said a judicial procedure on MP Hirunika Premachnadra would continue.

Responding to a question by the media as to whether action would be taken against those who killed a young man in Embilipitiya recently, Deputy Minister Perera said action would be taken against those killers. He also said the government was watchful about an alleged to move to sabotage the Independence Day by staging a protest and disrupting its rehearsal on February 3. (Yohan Perera)
Video by Rishan