---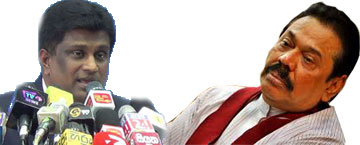 Power and Renewable Energy Deputy Minister Ajith P. Perera today in response to a question -- asked by former president Mahinda Rajapaksa as to whether the government was happy now that his son Namal had been arrested on charges of misappropriation -- said, "Yes of course we are happy because it clearly shows that the law of the country prevails and that the law takes its course."
He told today's weekly cabinet news briefing that there was prima facie evidence against Mr. Rajapaksa on three counts -- the misappropriation of funds, money laundering and cheating.
"It is true that it was not the 'Krrish Group' the Indian real estate developer in Colombo who made the complaint with regard to its payment of Rs.70 million to Namal but the president of the JVP-affiliated 'Voice Against Corruption' President Wasantha Samarasinghe. It is the right thing to do in the public interest where any citizen has a right to complain to the law enforcement authorities against any kind of crime committed by whoever the person is," the deputy minister said.
He said that though there was no complaint by the Krrish Group, it fully cooperated with the FCID inquiry and five witnesses -- former associates of Mr. Rajapaksa had given extremely incriminating evidence against him on the fraudulent transaction. (Sandun A Jayasekera)