---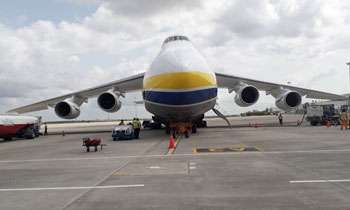 The world's second largest cargo aircraft, Antonov An-124 Ruslan, landed at the Mattala Rajapaksa International Airport (MRIA) this afternoon, Airport Manager Upali Kalansuriya said.
Speaking to the Daily Mirror, Kalansuriya said the cargo aircraft was being refuelled and that its crew was resting.
"It is iconic to have the world's second-largest aircraft at MRIA and it is the first time that this type of aircraft arrived in the country. The aircraft arrived from Indonesia and had scheduled to leave for Muscat at 1.40 a.m. tomorrow," he said.
Mr Kalansuriya said, there were nineteen crew members in the flight. The aircraft landed empty.
The An-124 is one of the largest aircraft in the world, specifically designed for carrying heavy and bulky loads.
It is equipped with a high volume of cargo capacity, drive-on loading ramps and a variety of built-in freight handling equipment.
The jet was manufactured between 1982 and 2014, and in total 55 were built. There are currently 26 civilian models in operation.
The An-124 was designed for long-range delivery and air-dropping heavy or bulky cargo, including machines, equipment and troops.
Earlier, the world largest cargo aircraft Antonov An-225 Mriya landed at MRIA on April 19.
That aircraft arrived from Kuala Lumpur and left for Karachi, Pakistan. (Chaturanga Samarawickrama)