---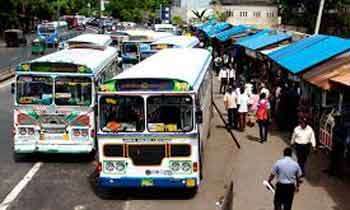 The All Ceylon Private Bus Workers' Association (ACPBWA) said they will stop the ongoing strike and launch a work-to-rule campaign from midnight today, unless the President intervenes to solve their issues.
ACPBWA convener Kumararatna Renuka told Daily Mirror that they had decided to call off the strike tonight following threats received by the workers, from bus owners.
"Now we are depressed and 40 per cent of bus operators have reported for work as they were forced to do so by their bus owners," he said.
Therefore, our association decided to call-off the strike and launch a work-to-rule campaign tonight. We advised workers to refrain from overtaking vehicles on the road by crossing white lines.
"The bus owners never think about their workers but only about their daily income. If we overtake and cross the white lines, we have to pay the spot fines from our daily salary.
Therefore, we have decided to deduct the spot fines from the bus owners' fixed daily amount at the end of the day and return the balance," he said.
"We do not care about the bus owners' income anymore and will not overtake any vehicle on the road. That will take a long time to reach a destination. We have also advised the workers to mark their log sheets accurately," Mr Renuka said.
We request the responsible authorities to implement the rules such as wearing of uniforms, he said.
Meanwhile, Transport Minister Nimal Siripala De Silva addressing a media briefing yesterday said that no one could oppose the new traffic fines once they were passed in Parliament and gazetted. (Chaturanga Samarawickrama)