---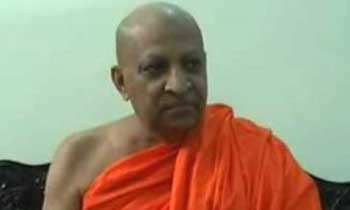 Malwatte Chapter Mahanayake the Most Ven. Thibbatuwave Siddartha Sri Sumangala Thera said he and the Mahasanga would not remain silent if anything inimical to the interest of the country took place.
He said President Maithripala Sirisena and Prime Minister Ranil Wickremesinghe assured them that the foremost place given Buddhism and the unitary character of the country in the Constitution would not be compromised.
The Prelate said this when joint opposition MP Dinesh Gunawardane called on him to submit the JO proposals on constitution making.
"The two government leaders gave this assurance. You are also in the committee preparing constitutional proposals. You must be aware if anything happens against the interests of the country. The government assures that it will no room for the division of the country. You claim otherwise. We do not know whom to believe," the Mahanayake Thera said. (J.A.L. Jayasinghe)