---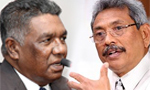 Defence Secretary Karunasena Hettiarachchi said the decision taken by the Government, to replace the military security provided to former defence secretary Gotabaya Rajapaksa with the Police and the STF, would not be changed under any circumstance.
On an earlier occasion, he had said that military personnel deployed for the security of former president Mahinda Rajapaksa and former defence secretary would be gradually removed and replaced with Police and STF personnel, because deploying military personnel for VIP security was illegal.
However, Gotabaya Rajapaksa said yesterday that he had requested Mr. Hettiarachchi not to remove the military security provided to him because there were still threats to his life.
He said that he had not been officially informed so far about his military security being replaced with police personnel.
Commenting on former defence secretary Rajapaksa's security, Mr. Hettiarachchi said there would be no change of plans to remove the military security provided to VIPs and replace it with police personnel.(Darshana Sanjeewa)