---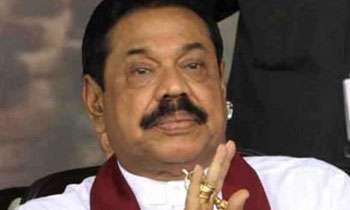 Opposition Leader Mahinda Rajapaksa yesterday vowed not to allow Prime Minister Ranil Wickremesinghe and TNA MP M.A. Sumanthiran to implement decisions taken by them surreptitiously that would harm the interests of the country.
He said this at the opening of the new 'Wahalkada' at the Nakulugamuwa, Meddadeniya Sri Shailarama Purana Temple in Beliatta yesterday .
Chairman of Sri Lanka Podujana Peramuna Prof. G.L. Peiris, MPs T.B.Ekanayaka, Chairman of the Southern Provincial Council Somawansa Kodagoda, Southern Provincial Councillors D.V.Upul and M.K.Kasun participated in the ceremony.
The Opposition Leader, speaking to journalists who were present at event, said,
"People who have not seen a Constitution say the country is about to be divided. They say that it is neither a Constitution or a draft. Some others say that it is a draft. The truth is only known only by Ranil and Sumanthiran as it is they who are attempting to implement the decisions taken by them on the sly. We will not allow this to happen," MP Rajapaksa said.( Aneesha Manage)
Video by Anisha Mannage