---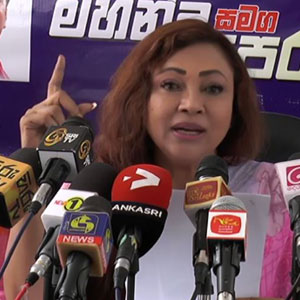 Joint Opposition MP Geetha Kumarasinghe yesterday said the impact of the increase in the prices of cigarette and alcohol would effect women as well because it was unlikely that those who were in the habit of drinking and smoking would stop or even reduce their alcohol and nicotine intake even if prices for these items go up.
"When a country's economy is collapsing, it is the women who are greatly affected by it. Even though the government increases the prices of cigarettes and alcohol, people will not cut down on smoking and drinking. Its impact will also have to be shouldered by women of this nation in the end. They do not get anything out of this,"she said.
Speaking further, Ms. Kumarasinghe said even though the government claimed that it had reduced the prices of essential commodities, people could not buy them at reduced prices from any shop.
"We cannot buy essential commodities at the reduced prices announced by them from any shop. I went to Sathosa yesterday and came to know that people have to buy goods worth Rs.1,000 to be able to purchase a kilo of sugar at Rs.95. At Lak Sathosa people need to purchase goods worth Rs.500 to qualify to buy four kilos of sugar," she said.
Ms. Kumarasinghe said people were living without a clear future and added that they would join the Jana Satana Pada Yathra against the VAT and the cost of living on July 28.
MP Pavithra Wanniarachchi said there was no point in accusing Mahinda Rajapaksa and the previous government for the failure of the government and added that the failure of the government was a result of its inability to perform and its lack of unity.
If the country was given to Mahinda Rajapaksa tomorrow we would show you how to remove the VAT, provide fertilizer at concessionary prices, distribute free school uniform material and continue the development process, she said.
"Our economic policy is completely different from that of the present government. We are not a party dependent on the West," she said. (Ajith Siriwardana and Indika Sri Aravinda)
Video by Indika Sri Aravinda