---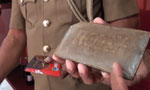 A 45-year-old woman was arrested by the Excise Department's special squad today in Hikkaduwa for allegedly possessing hashish mixed 18 chocolate slabs with an estimated street value of Rs. 5 million.

According to the Department, the woman had been arrested on information received by Excise Commissioner General L.K.G. Gunawardane, while attempting to sell hashish mixed chocolates which had been got down from Italy.

Deputy Commissioner Pushpakumara has led the special squad and made the arrest. It was reported that she had been involved in the illegal business earlier too.

She was detained by the Department and is to be produced in the Galle Magistrate's Court tomorrow. The Department said the suspect had sold hashish to foreigners visiting the coastal areas from Galle to Kalutara and to elite family members.
Video by Buddhi