---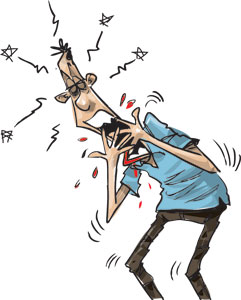 A part of the lower lip of a man had been bitten off when he allegedly tried to sexually abuse his 65-year old mother- in -law, Kirindiwela Police said.
The 44-year old son-in-law has been taken into custody by Kirindiwela Police.
The mother-in-law had been at home alone when the suspect allegedly entered the house by the back door and tried to molest her. She had defended herself by biting his lower lip..
Police said suspect's wife was working abroad and his daughter was living with his mother-in-law.
The incident had taken place when suspect's daughter was at a tuition class.
Later, the mother-in-law has gone to her younger daughter's residence to avoid her son-in-law and complained to the Kirindiwela Police.
Police said that when they arrested the suspect a part of his lower lip was missing.
OIC (Crimes) Sub Inspector Wanniarachchi and PC Lakshantha are conducting further investigations instructed by OIC Kirindiwela Police, Rukshantha Perera. (Upali Ranaweera, Kirindiwela)