---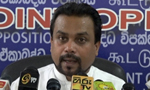 The Joint Opposition today requested the Financial Crimes Investigation Division (FCID) and the Bribery Commission to launch an investigation into the Rs. 30.8 million of expenditure of the Farmers' Conference which was held at the BMICH today.
"We request the FCID, the Bribery Commission, and those who are concerned about money laundering, to probe this amount if they could," National Freedom Front (NFF) Leader MP Wimal Weerawansa told a news conference.
He charged that Rs. 6 million had been allocated for foods for the participants of the conference, Rs. 8 million for audio and lighting, Rs. 7 million to transport of farmers, Rs. 4 million for souvenirs and Rs. 500,000 for decorations.
The conference was organised by the Irrigation and Water Resources Management Ministry and President Maithripala Sirisena was the Chief Guest.
The MP said the Government preached simplicity its action proved otherwise.
"The Government accused us of organising events like Deyata Kirula. Today, it has created Yowun Pura which is a politically motivated initiative," he charged. (Lahiru Pothmulla)
Video by Sanjeewa