---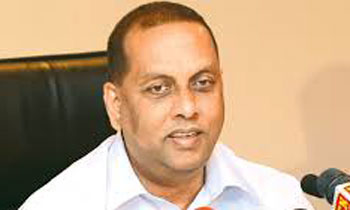 While vowing that the SLFP would never let any party or group to postpone the LG polls, UPFA General Secretary Mahinda Amaraweera said the SLFP would sorted out the legal issues on December 4 at the Court of Appeal.
Minister Amaraweera said he as the General Secretary of the UPFA and Duminda Dissanayaka as the SLFP General Secretary through their team of lawyers would submit written and oral arguments on December 4 before the Court of Appeal as to why the local government polls should not be postponed.
Addressing the weekly SLFP news briefing at the party office today Minister Amaraweera said it was the SLFP that maintained a clear and firm policy on local government polls saying that it must be held under the new electoral system that will do away with the much criticized PR system and create a direct representation of the people at every ward.
Minister Amaraweera pointed out that the new electoral system was not 100% perfect and there may be loopholes or mistakes in the system. But we must hold polls as early as possible. We will be in a position after the polls, what and where the amendments or corrections are needed and can rectify them with further amendments.
"The main reason that delayed the conducting of the local government polls is the delimitation process that required demarcating boundaries of local government bodies and wards under the new Local Government Electoral (Amendment) Act No. 22 of 2015. The blunders, mistakes, omissions and commissions of the report of the delimitation commission appointed under the previous regime had to be corrected on the request of all political parties. That is why the local government polls were delayed," he added.
Minister Amaraweera said the SLFP Central Committee met on Wednesday night led by party leader, President Maithripala Sirisena and took a few important decisions.
The SLFP is firm that the local government polls would not be postponed and therefore organization of the party from the grassroot level to the top for the elections would be carried out regardless of the Court Order that suspended preparation until December 4. The SLFP has already argued before the Court of Apeal as to why polls should not be postponed.
Minister Amaraweera pointed out that some political parties and groups wanted to postpone the local government polls while some others wanted to hold the polls under the old system. The SLFP rejects both suggestions and wants to conduct polls as early as possible under the new electoral system that gives every local government ward a member voted into by the people. The new system will prevent drug dealers and underworld characters from winning local government polls using thuggery and money power and added the SLFP was for clean and fair polls and politics forever (Sandun A Jayasekera and Chaturanga Pradeep)