---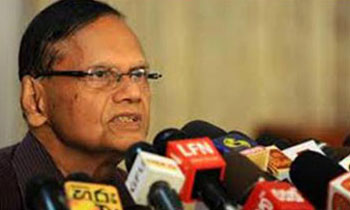 The joint opposition (JO) today said it would radically modify the new Inland Revenue Act (IRA) and other such Acts when it comes to power, to provide benefits to the people instead of suppressing them.
Sri Lanka Podujana Peramuna (SLPP) Chairman G.L. Peiris said the new IRA would result in grave repercussions as those who depend on the interest of their deposits would be affected drastically by it.
Meanwhile, he said the government's inefficiency has created an inauspicious era in the country and that this era would end after the no-confidence motion against Prime Minister Ranil Wickremesinghe is passed.
"The ambiguousness and the lack of order had resulted in chaos in the country. The President was hell-bent on dissolving the Economic Management Committee but it is still intact. The Health Minister wanted to ban Glyphosate while another minister is against the ban," he told a news briefing.
Addressing the news briefing, MP Bandula Gunawardana said one of the very first decisions of a JO government would be amending the IRA. "We will amend this Act based on just policies," he said.
He said the previous Mahinda Rajapaksa government had provided tax relief to the people but these relief measures were taken away by the government."We have to do away with oppressive tax policies. The JO will restructure the tax collecting system to suit the times," he said. (Lahiru Pothmulla)
Video by Susantha