---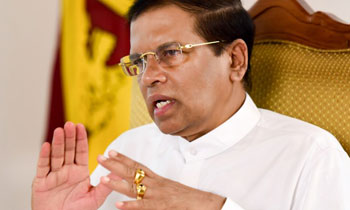 A group of Sri Lanka Freedom Party (SLFP) MPs are reported to have informed President Maithripala Sirisena on Wednesday night that they would quit the government soon and yesterday met former President Mahinda Rajapaksa to discuss the next step.
The group included Ministers Susil Premajayantha and Anura Priyadarshana Yapa and Deputy Ministers T.B. Ekanayake, Dulip Wijesekara, Nimal Lansa and Arundika Fernando. According to Reports at least 12 SLFP MPs in the government are likely to cross over.
They had the President after the late night Central Committee meeting on Wednesday. These ministers were reported to have said they found it increasingly difficult to be in the government amid corruption allegations such as the bond scam and questionable highway projects and criticised the government's move towards power devolution.
Meanwhile, Deputy Minister Arundika Fernando and former President Chandrika Kumaratunga had reportedly crossed words at the Central Committee meeting with the deputy minister alleging that some UNP members were involved in fraud and corruption while Ms. Kumaratunga said the current government took office after ending a term riddled with rampant fraud and corruption. (Kelum Bandara)