---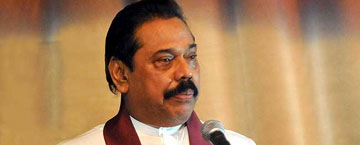 Responding to the statement made by former president Chandrika Bandaranaike Kumaratunga claiming that he former President Mahinda Rajapaksa was paid by J.R. Jayawardena to divide the SLFP, Rajapaksa yesterday said that he will not to respond to statements by individuals who were sick.
Speaking to the media after a meeting with party representatives at Nelum Place, Rajapaksa said he heard of his predecessor's statement that she had the receipts of such as a transaction, through the media.
Meanwhile, commenting on the COPE report issued on Friday in which former Central Bank Governor Arjuna Mahendran was held responsible for the Central Bank Bond sale scam, he said that justice should be meted out to those responsible.
"The government was party to the scam but now they are pointing fingers at others. They are trying to escape from the responsibility and save themselves. We will not let this happen. The joint opposition is battling against this and we will continue to do so," he said.
Video by Buddhi