---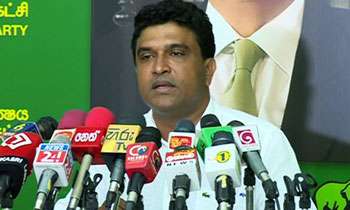 In reference to the incident, where several military type equipment and uniform belonging to the LTTE were detected in a three-wheeler at the Peraru Junction in Oddusuddan on Thursday, Deputy Minister of Law and Order Nalin Bandara said yesterday the Government would not allow terrorism to raise its head again.
Addressing a news briefing, he said the Terrorist Investigation Division (TID) officers were conducting a special investigation into the incident.
"Since Sri Lanka is a country, which was embroiled in a civil war for nearly 30 years, it is not surprising that buried weapons are being found in areas where there was a war at one time," Minister said.
"But we should make sure whether these types of incidents would challenge the national security. The Government along with the tri-forces is always alert on these actions and would take necessary steps accordingly," Minister added.
"Investigations are underway to find out whether there is secret movement or organization that assists the scattered LTTEers to reorganize again," Minister added.
Meanwhile, he said stringent actions would be taken against those who killed a leopard in Kilinochchi.
"We have got clear video clips of the events, which show how the leopard was killed. Therefore, we will take actions to apprehend those who were involved in this killing," the Minister said. (Sheain Fernandopulle)