---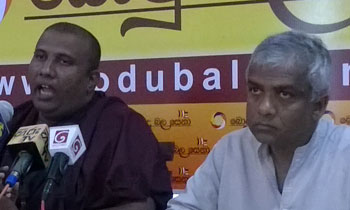 The Bodu Bala Sena (BBS) today said that it would not let the Government close the Dambulla Raja Maha Vihara Complex or any other temple in the country using any international laws.
Addressing the media at the BBS head quarters at Rajagiriya today, its Chief Executive Officer Dilantha Withanage said the Archeological Act was created by foreigners to not to protect our archeological sites but to ruin them.
"Most of the acts were created to ruin our heritage," he said.
"We will not let Education Minister Akila Viraj Kariyawasam to bend the law as he wants and we will give our full support to battle of the Mahanayake Theras against closing the temples," he said,
Meanwhile, Sinhala Ravaya General Secretary Magalkande Sudaththa Thera said that Dambulla Raja Maha Vihara was not a monument to close for visitors and the Minister had not even requested the permission of the trustees of the Temple Ven. Ambagaswewe Rahula Thera.
"We are glad to hear the decision taken by the Archeological Advisory Committee on immediate conservation measures of the statues and paintings at the temple. But there is a proper procedure for that and there is no need to close the entire temple complex," Ven. Sudaththa Thera said.
"The Government is trying to take revenge on the Asgiri Chapter including the working committee of the Sangha Sabha by closing the Dambulla Raja Maha Vihara Complex," he said.
"We have received information regarding the closure of the Dambulla Raja Maha Vihara Complex forcibly. The Vihara is first a heritage of Buddhism and secondly a heritage to the world. The
The Thera requested the Prime Minister and the Education Minister to protect the Buddhist heritage instead of protecting world heritage. (Chaturanga Pradeep)