---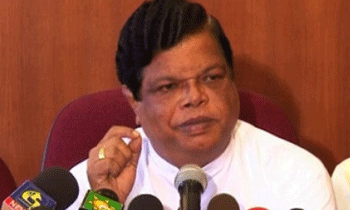 The joint opposition said today it would inform the World Bank (WB), the International Monetary Fund (IMF) and the Asian Development Bank (ADB) next week about funds amounting to Rs.792 billion remaining unused from the 2016 Budgetary allocations.
JO MP Bandula Gunawardena said Rs.3,898 billion was allocated through the 2016 Appropriation Bill, but only Rs.3106 billion had been spent during that year.
"A staggering Rs.792 billion has been left untouched. This is 20 per cent of the total amount allocated for 2016. When such a huge amount is left untouched, it means the amount of funds available for circulation will be drastically reduced. This leads to a striking disparity in the income of the people with little or no money to spend on essentials," he told a news briefing.
The MP said the government could have built 30 more airports like Mattala or 80 more towers like the Lotus Tower with the unused funds if put to proper use.
The MP who is a member of the Committee on Public Finance, said the unused funds were revealed in a report he had requested from the Auditor General's Department on the 2016 Budget expenditure.
"None of the previous governments had used the entire amount allocated through a budget. But it is unusual to have as much as Rs.792 billion unused. If the IMF and the WB know about this, they would launch a separate investigation," he said.
The MP said former finance minister Ravi Karunanayake was responsible for the economic crisis in the country and said he had manipulated numbers to mislead Parliament in 2015, 2016 and 2017. (Lahiru Pothmulla)