---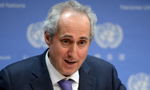 The United Nations continues to support the Sri Lankan Government in its efforts to respond to the needs on the ground, Spokesperson for the UN Secretary-General Ban Ki-moon, Stephane Dujarric said yesterday.
The Office for the Coordination of Humanitarian Affairs (OCHA) said that according to Sri Lanka's Ministry of Disaster Management as at 20 May, nearly 428,000 people in the 22 districts of Sri Lanka were reportedly affected by floods, landslides and heavy rain.
"International NGOs are organising a joint rapid assessment in 11 districts starting today to obtain further information on the needs on the ground," the Spokesman said speaking at a UN noon briefing yesterday.
He said that the OCHA was also helping to strengthen local UN coordination and assist agencies in joint resource mobilisation efforts.