---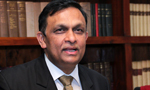 The law would be implemented according to the book at the Bribery Commission, the newly appointed Director General, President's Counsel Sarath Jayamanne said today.
"No one will be a suspect or a criminal, prior to the investigation just because someone appeared before the Bribery Commission. I will carry out the duties according to the law," the new Director General said while assuming duties.
He was appointed Director General of the Commission to Investigate Allegations of Bribery or Corruption by President Maithripala Sirisena on November 10, following the resignation of former Director General of the Commission Dilrukshi Dias Wickramasinghe.
Mr. Jayamanne said technical and scientific assistance would also be obtained, when conducting investigations.
"My main goal is to conduct investigations rapidly as a team in an efficient and professional manner. I will hand over the progress of the investigation to the Commissioners," he said
He said legal action in the cases would be taken on the recommendation of the Commissioners.(Darshana Sanjeewa)