---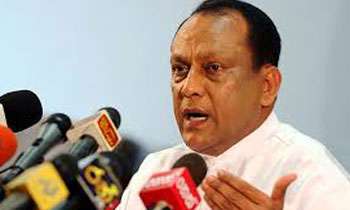 The 19th Amendment which was the initial cause for the prevailing political turmoil would be amended when they were elected to office, MP Lakshman Yapa Abeywardena said today.
Addressing a news briefing, he said the 19th Amendment had made the county unstable and chaotic.
"When the 19th Amendment was brought in, we all voted for it thinking that it would deliver good things in the interest of the people. But what has transpired now consequent to this amendment is absolutely unacceptable," MP Lakshman Yapa said.
He said that they regretted voting in favour of it and thus would take action to amend it no sooner than they elected to office.
"We can't fathom what the 19th Amendment contains. It contains complexities that adversely affect the functioning of the Legislature and the Executive. Hence, it is necessary to come up with amendments so that the complexities would be lessened," the MP said.
Meanwhile, MP Gamini Lokuge said Mahinda Rajapaksa did not want to remain in power forcibly.
"If Parliament is properly convened, we would like to attend the sessions and are ready to face any challenge under a democratic framework," MP Lokuge said.
"What the Speaker and the UNP have done so far can't be condoned because everything has been done in violation to the Constitution and the Standing Orders," he added.(Sheain Fernandopulle)