---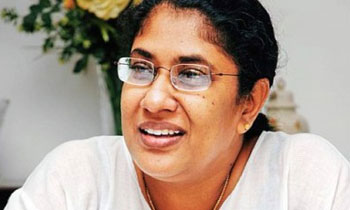 The government will act in a responsible manner in future with regard to State doctors who are engaged in strikes that inconvenience patients, Foreign Employment and Justice Minister Thalatha Atukorale said recently.
Minister Atukorale said that several people were acting as if the South Asian Institute of Technology and Medicine (SAITM) was established as a result of an initiative of President Maithripala Sirisena.
"A huge issue has been made out of the SAITM by several parties which has greatly inconvenienced the people. The main issue that has been brought up in this regard is that a loan of Rs. 3 billion was received from the Bank of Ceylon (BOC) to run the institution," she added.
She said that State sector doctors were engaged in private practice in the evening without attending to their duties at government hospitals and added that the standards of this profession had gone down due to such activities.
She said that the doctors who were part of this conspiracy were invariably working according to a political agenda and as such the government would take responsible measures in future to defeat it. (Kalathma Jayawardhane)