---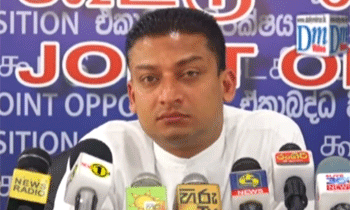 The joint opposition today refuted the allegation that former Justice Minister Wijeyadasa Rajapakshe would contest the general election as the common candidate of the JO.
Addressing a news briefing, MP Dilum Amunugama said the joint opposition never went behind any common candidate and would not do so in future.
"We will field our own candidate, not a common candidate," he said.
However, when asked if the JO would accept MP Rajapakshe to their party, MP Amunugama said they would accept not only MP Rajapakshe but anyone who were willing to join them.
He said the JO would not have any special meeting with MP Rajapakshe or any other individual as long as they followed the same ideology.
He said the removal of ministerial portfolios from Mr. Rajapakshe reflected the extent to which the UNP would go to take revenge on their opponents.
"Although the party gave MP Rajapakshe a deadline to withdraw the statements he made over the Hambantota Port, he didn't to do so. He stood by his word and therefore, the UNP wanted him removed," MP Amunugama said. (Lahiru Pothmulla)
Video by Susantha