---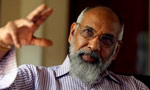 Northern Province Chief Minister C.V. Wigneswaran insisted that the government should re-merge the Northern and Eastern provinces on the basis that they were the cultural homelands of the Tamils.
"The government should take action to re-merge the North and East, the only cultural homelands of the Tamil people," he told a briefing at the Jaffna Library on Sunday following a meeting of the Tamil People's Council.
Mr. Wigneswaran said Muslims were objecting to the re-merger and the government was making use of it for their advantage and side-stepping the issue. He said the government should be strong enough to overcome any challenges and the Muslim people have no reason to object to the re-merger of the North and East.
"If re-merged, the North and East will not only be culturally secure and power could be devolved in a manner suitable to the provinces through a federal system of administration. This fact should be accepted by the government and the Muslim leaders and the re-merger should be carried out sooner than later," he said.
"The government has asked the people to submit proposals for a new Constitution in a way that longstanding national question is resolved and for this purpose any allegations of war crimes should be investigated," he said. (Romesh Madusanka)