---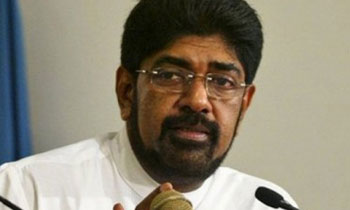 Former Media Minister during the Mahinda Rajapaksa regime Keheliya Rambukwella today scoffed at the speculations that he was to defect from the Joint Opposition to team up with the Sri Lanka Freedom Party (SLFP) led by President Maithripala Sirisena.
Speaking to the media at his Kundasale residence after a meeting with the candidates of the Sri Lanka Podujana Peramuna (SLPP) contesting the upcoming Local Government elections, Rambukwella said that former President Mahinda Rajapaksa was still a State leader for him.
"Mr. Rajapaksa has gone in the history as the king, who saved the country from the clutches of the terrorism. History will attest to the degree of respect the people pay to him," he added.
Observing the situation in the country he stated that the situation on January 8, 2015 no longer existed and the people were waiting to put an end to the current unfortunate political journey of the country.
"You can't hoodwink the people forever. The leaders of the Government said that they would open a Volkswagen car manufacturing plant and create 100,000 jobs. Now where is the car manufacturing plant? Where are the jobs?" he said.
He said that the SLPP was in a struggling to select candidates for the upcoming elections as 71,000 people were clamouring for slots and that it was with great difficulty that it had selected 8,000. (J.A.L.Jayasinghe)