---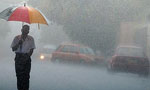 Rains can be expected in two days from March 28 ending the dry climatic condition prevailing in many parts of the country, the Meteorology Department said.
Meteorologist Nimal Bandara said however the prevailing intense heat would continue for another month despite the expected rain fall.
The Inter Monsoon period will be activated during the month of April and heavy rain falls will be experienced throughout the country.
With the sun directly positioned above Sri Lanka from April 4 to 14, the hot weather condition will prevail until the South Western Monsoon sets in May. (Diana Udayangani)