---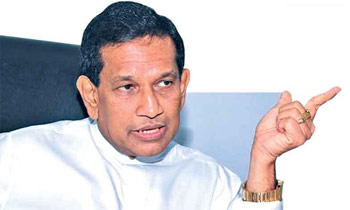 The changing weather conditions the world over have not only resulted in floods and landslides but also in a global outbreak of the dengue epidemic, Parliament was informed yesterday.
Health Minister Rajitha Senaratne said the US Centre for Disease Control had so far sent out 900 dengue alerts globally with 400 alerts had sent out to countries in the Asian region.
"Sri Lanka is also affected by the global epidemic while South Asia is the most affected," he said in response to a question asked by the joint opposition parliamentary group leader Dinesh Gunawardene in the House last morning.
The minister said Dengue Virus 1 and 3 was present in Sri Lanka at the moment. He said 48 people in Sri Lanka had died last year which is 0.2 per cent of those affected and added that in Sri Lanka it was the young adults and the elderly among the worst affected.
The minister said several precautionary had been taken to prevent the spread of the disease in Sri Lanka such as the carrying out constant checks on places such as schools. He said a special ward has been set up at the Infectious Disease Hospital (IDH) in Mulleriyawa to care for the dengue patients.
Earlier, Mr. Gunawardene had said there were 45,000 dengue patients in Sri Lanka up to now.
"The statement by the health authorities that they alone cannot handle the situation is a clear indication on how grave the situation had become," he said. (Yohan Perera)