---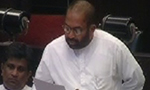 Weaknesses of the electricity lines have been the cause of the recent countrywide blackout, Power and Renewable Energy Minister Ranjith Siyambalapitiya informed Parliament today.
In a special statement he said, "A transformer at Biyagama transmission station had tripped at 2.20 pm resulting the breakdown of the Norochcholai Power Plant which generates 900 Mw of electricity. The remaining transmission lines had not had the capacity to transmit this load. All power stations had been disconnected from the system as a security measure," the minister said while admitting that this was an unusual situation.
He said it had taken eight hours for the engineers to rectify the situation.
The minister said the prevailing drought had an impact as well because hydro power could not be generated with water having to be preserved. This situation resulted in the Ceylon Electricity Board having to go for a staggered power interruption exercise.
The minister said a similar situation had occurred in 2009 with power outages five years later. He said power had been disrupted three times within six months since 2014. However, he said several steps have been taken to prevent similar incidents in the future as there was no plausible technical explanation.
These, he said included the provision of army protection to all important power stations and transmission stations and obtaining assistance from the experts from the German company which had manufactured the transformers.
The minister said the improper design of the Norochcholai power plant and weaknesses in the transmission stations had also identified as key challenges in the power sector.
He said a special committee had been appointed to look into the maintenance of important power plants and transmission centres as a short term measure while private power stations including ACE Power at Embilipitiya, Heladanavi and ACE Power at Matara would be purchased by the government.
The construction of new power stations including that of Uma Oya will be expedited as a long term measure (Yohan Perera)