---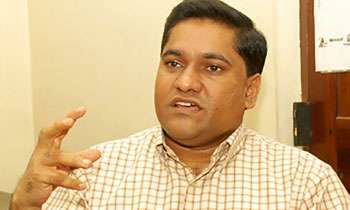 The Janatha Vimukthi Peramuna (JVP) has taken a firm decision to vote against the appointment of Mahinda Rajapaka as the Prime Minister and the prorogation of Parliament by President Maithripala Sirisena in Parliament, the Politburo member of the JVP, Parliamentarian Vijitha Herath said yesterday.
Mr. Herath told Daily Mirror that the JVP would not protect any politician, political party or group in this political cum Constitutional crisis but the Constitution and democracy.
"We are not ready to protect President Maithripala Sirisena, Ranil Wickremesinghe or Mahinda Rajapaksa. Our prime concern is to safeguard democracy and uphold democratic principles. Our position is that the appointment of Rajapaksa and prorogation of Parliament by President Sirisena is a violation of the Constitution and against the democratic way of governance. Therefore, all six members of the JVP will vote against this action in Parliament when a vote is taken," Mr. Herath told Daily Mirror.
He added that if a No Confidence Motion was brought against the new government or against Prime Minister Rajapaksa in Parliament, the JVP would also support it. (Sandun A Jayasekera)