---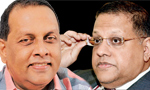 The government will seek Interpol assistance in case former Central Bank Governor, Arjuna Mahendran, does not return to Sri Lanka to support the investigations into the Central Bank bond issue, UPFA General Secretary Mahinda Amaraweera said yesterday.
"It was me who first made a complaint with the Bribery Commission against the bond scam. The fight against the bond issue culprits was carried out with the blessings of the President. However, we will not let anyone sweep this scam under the carpet," he said.
Speaking at an opening ceremony in Hambanthota, Amaraweera said they doubted they would need Interpol assistance. "Maybe Mr. Mahendran left the country for a personal matter, but some people suspect he fled the country. However, if he believes that he is innocent he will cooperate with the investigation," the General Secretary said.
Video by Roshan Gunasekera