---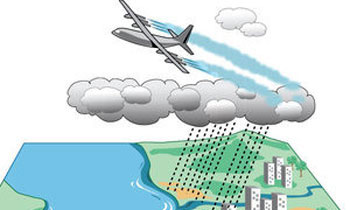 In a bid to find a sustainable solution to the recurring droughts, the next few months would witness the first onset of artificial rain in selected areas of the country as a pilot project, Power and Energy Ministry Secretary Suren Batagoda said.
He told Daily Mirror the Ministry had decided to introduce 'Artificial Rains' for the first time in Sri Lanka with technical support from the Bureau of Royal Rainmaking and Agricultural Aviation (BRRAA) of Thailand.
"A team of experts on artificial rain-making led by the Director General of BRRAA visited Sri Lanka last month and had several rounds of talks with the Ministry and the CEB. We are confident that Sri Lanka would benefit if the pilot project is a success and artificial rain-making can be made a permanent solution to the repeated droughts that have had a negative impact on the country," Dr. Batagoda said.
Cabinet approval has been granted for an Environment Impact Assessment on the project with the assistance of experts of the subject, and an MOU on the project is to be signed shortly, between the Ministry of Power and Renewable Energy and BRRAA and that Sri Lankan officials would visit Thailand to study the rain-making project.
"The first artificial rain project will be carried out in the catchment basins of the four major reservoirs namely Castlereagh, Victoria, Kotmale and Mausakelle and depending on the success of the pilot project, it would be extended to other drought-hit areas of the country," Dr. Batagoda said.
He said the Power and Renewable Energy Ministry did not intend increasing power tariffs this year despite the on-going drought in many parts of the country.
"Only 40% of the total power generation is provided through hydropower at the moment and the remaining 60% is supplied mainly from the costly thermal power obtained from private power suppliers and renewable energy. As a result of the excessive heat generated by the drought, March 20 had recorded a supply of 2,500 MWs from the CEB. But we cannot provide an uninterrupted power supply throughout the year unless we do not dramatically increase the generation of alternative energy which is not possible in a short period of time. Besides, it needs major investments. That is why we have decided to try our luck on artificial rain," Power and Renewable Energy Minister Ranjith Siyambalapitiya said. (Sandun A. Jayasekera)