---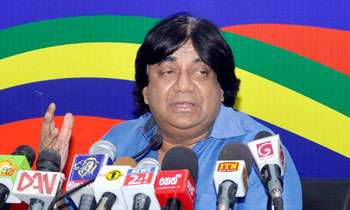 Not a single SLFP minister who voted in support of the No Faith Motion on Wednesday was ready to leave the 'Yahapalana Government' as they were appointed by President Mithripala Sirisena and not by any one else, Highways State Minister Dilan Perera said.
He added that the aftermath of the No Faith Motion has brought the country into a risky position as the motion was beaten with the help of the TNA and the SLMC by giving them various promises and assets.
Addressing the media at the SLFP head office today, Minister Perera said all SLFP members of the government including those who voted for and against the No Confidence Motion were united and on the same wavelength and determined to work against the UNP policies.
"Health Minister Dr. Rajitha Senaratne has said that all SLFPers would be ousted from the portfolios when the new cabinet is appointed. But it is the responsibility of the President Sirisena. Therefore, we remain in our posts until President ask us to leave," he stressed.
Sports Minister Dayasiri Jayasekara said all 16 members of the SLFP who supported the NFM would sit in the opposition in Parliament and added all 41 SLFP members were supportive of the NFM.
"Abstaining in Parliament at the time of vote taking does not mean that they opposed the motion. They did not support it either and that means they are with us," Minister Jayasekara stressed.
Minister Jayasekara emphasized that the NFM was not against President Sirisena and it was against Prime Minister Ranil Wickremesinghe and the opposition for him as Prime minister by will remain as long as this Parliament expires.
Minister Chandima Weerakkody also addressed the news briefing. (Sandun A Jayasekera)