---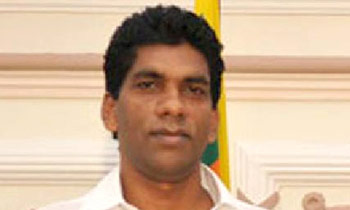 The Ceylon Workers' Congress (CWC) is accusing its rival political parties of attempting to take political advantage of Indian Prime Minister Modi's visit to the estate sector, CWC vice president and Central Provincial Councillor Kanapathy Kanagaraj told a news briefing.
The Indian government has spent Rs.5 billion for the construction of a new building complex for the Hatton Base Hospital to be inaugurated by Mr. Modi during his visit on May 12. He is scheduled to address the estate workers at Norwood grounds. The CWC said it had received invitations from the Indian High Commissioner's office to attend these events.
It said when CWC leaders including provincial council minister Senthil Thondaman were on their way to inspect the grounds and see about the arrangements, their vehicle in which they were travelling had been obstructed by Minister Palani Digambaram and his supporters who are alleged to have threatened the CWC members saying they had no right to attend the opening or the meeting.
Mr. Kanagaraj said the CWC had lodged a complaint at the Hatton Police station.
When contacted, Mr. Digambaram said the Indian Premier is visiting the estates on an invitation extended to him by the Tamil Progressive Alliance and the functions connected have all been organized by his ministry and everybody is free to attend the events. But he said the CWC supporters had no moral right to enter the grounds where the function was to be held and create a stir.
The CWC claims that it is their right to visit the grounds where the Indian leader is supposed to address the crowds to check the facilities being provided for their members who would attend.
Former chairman of the Ambagamuwa Pradeshiya Sabah Vellayan Dinesh and Nuwara Eliya Pradeshiya Sabah's former chairman S. Sathasivam too attended this media briefing. (Ranjith Rajapakse)