---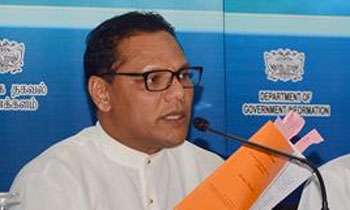 Cabinet Spokesman and Skills Development Minister Dayasiri Jayasekara said today Sri Lanka did not follow the traditions of the British Parliament since it became a Republic in 1972 and that from 1978 onwards it was ruled under an Executive President.
He said this at the weekly Cabinet news briefing in response to a statement made by former leader of the House and Minister Lakshman Kiriella that Sri Lanka should follow the Westminster system.
"Today's Parliamentary proceedings will be peaceful if the UNF-led opposition alliance does not pick a fight with the government on composition of the Select Committee to be established. The Parliamentary select committees had a majority representation during the regime of President Chandrika Kumaratunga in 1994 and during the 100-day programme in 2015, despite having the support of a lesser number of members than the opposition. Therefore, the government has already nominated seven members to the 12-member select committee. The UNPF-led alliance has no choice but to accept it. If someone intends to disrupt the proceedings in Parliament today, it will be the opposition," he said.
Rejecting media reports that tourism has experienced a downturn as a result of the current political crisis, the minister said the impasse had not affected travel and tourism.
"I checked with the Tourism Promotion Bureau and its Chairman Sanath Ukwatte told me that not a single foreign travel operator cancelled tours to Sri Lanka. He also informed that a large group of 'Barmy Army' comprising hundreds of British tourists is arriving in Sri Lanka in a couple of days to watch the third test match and to spend their winter vacation," he said.
Responding to a question raised by a journalist, the minister said President Maithripala Sirisena had never ordered the transfer of IP Nishantha de Silva to Negombo.
"Media reports are false. If the police chief says the transfer order came from the Presidential Secretariat then that is also incorrect. President Sirisena never gave such an order," he said.
Replying to another question, he said the Constitutional Council was responsible for the removal of IGP Pujith Jayasundara and that the Police Commission of the President was not involved in appointing, transferring or taking disciplinary action against the IGP. (Sandun A. Jayasekera)