---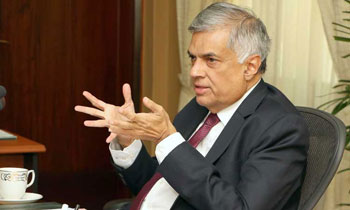 Sri Lanka is undergoing a difficult and crucial period where the economy is concerned but important sectors such as education will be structured in line with the demands of the 21st century, Prime Minister Ranil Wickremesinghe said today.
He said this when visiting a smart class room at the Sri Jayawardenepura Maha Vidyalaya.
"The current year 2017 and the years 2018 and 2019 will be difficult years where the economy is concerned as Sri Lanka will have to concentrate on debt payments during that time. However we will manage the economy and pave the way for a technology-based education system," the Prime Minister said. "The Government has decided to introduce an education system in line with the 21st century. Smart classroom concept is a part of it. We will go to the second step of distributing tablets next year. Each child will be made to spend 13 years in school. We will have to go in for the new education system in a decade. We can do it now as we have the funds. This should have been started two decades years ago. Both main parties which are governing now should see to it that the education system does not change with the change of government. It could be done as both parties are governing together unlike in the past. However we need funds. We did not have funds in 2015 but managed to stabilize the economy this year. Therefore the revenue has exceeded debt servicing. Schoolchildren will have employment opportunities when they leave school if there are investments. The strategy of the government is to attract investments."
The Prime Minister said Sri Jayewardenepura MV was a Christian Institute in the past.
"It was a seminary where Church of England priests were trained. Later the laymen were also brought here. Students who learned in this school those days became successful in the society with their knowledge of English, Latin, Greek and Mathematics and other subjects. Therefore a handful of people in society had opportunities. They had opportunities to enter universities. Some went to Indian universities others to countries such as Britain, the two Obeysekeras in this school went to Oxford University. The British Governor used to visit this school annually during the colonial period. British Governor Robert Horton signed the visitors book in this school saying the most valuable gift a country could give its youth is education. Then he decided to open schools for lay students. First such school was Colombo Academy (Royal College) originally in Pettah. English medium education was introduced in Sri Lanka before many other countries. It was a great opportunity over other countries. However Sri Lanka could not sustain it. Other countries which introduced English medium education after Sri Lanka had managed to benefit more than Sri Lanka," he said. (Yohan Perera)