---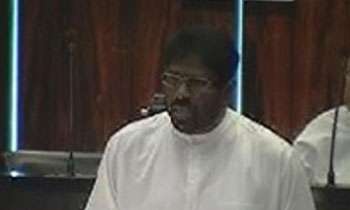 Former minister and SLFP MP Vijith Wijayamuni Soysa said today that he and two other SLFPers had not joined the United National Party (UNP) but joined the government to stabilise it.
In a special statement, he told parliament that people had been inconvenienced and had to face immense hardships due to the recent crisis situation and it was the responsibility of the SLFP to restore normalcy for the benefit of the people.
"We have no issue in working with SLFP Chairman and President Maithripala Sirisena and SLFP consultant Mahinda Rajapaksa," he said.
He also said SLFPers were in a desperate situation now and they should be protected.
"Those who joined SLFP halfway through had no concern for the party. We as born SLFPers are concerned about the party. My father and I strived for the party from 1971 under difficult circumstances," he said.
The MP said they were not allowed to work under their government and added that however, under the Yahapalanaya government, they were given powerful portfolios to serve the people.
"We were not given any worthwhile ministries to serve the people under the UPFA government, but under the Yahapalanaya government, I was able to construct 200 tanks. I was not obstructed by UNPers Ranjith Madduma Bandara or Ananda Kumarasiri in the Moneragala District," he said.
He said he wanted to serve his people in the Moneragala District and that the three of them had joined a victorious alliance today. (Ajith Siriwardana and Yohan Perera)