---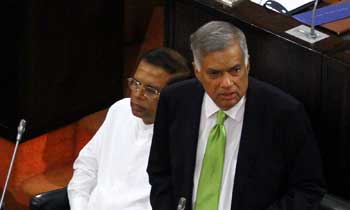 It is regrettable to note that Sri Lankan people who have enjoyed 70 years of Parliamentary democracy and 60 years of independence had failed to come together as Sri Lankans, Prime Minister Ranil Wickremesinghe said yesterday.
Prime Minister Wickremesinghe who was speaking during the special session of the House held yesterday to mark 70 years of parliamentary democracy in Sri Lanka said Sri Lankan people had failed to establish a true Sri Lankan identity by establishing goodwill among all ethnic groups together.
"The failure to establish a true Sri Lankan identity did not allow Sri Lanka to reap maximum benefit of the open economy introduced in 1978" the Prime Minister said while highlighting that this failure took the nation towards an ethnic conflict which lasted for six decades and a war that lasted for thirty years.
" It is indeed regrettable that we have failed to come up with a political solution to the national issue " he added.
However, Mr. Wickremesinghe recalled that Sri Lanka has achieved much using it's 116 years of legislative system". The Legislative system in Sri Lanka was first introduced in 1832. The Governor appointed members for it initially, while the members were elected by the people later. "We were able to use this system to establish two Republican Constitutions using the legislative system and 70 years of parliamentary system. Later, we were able to give more power to Parliament by establishing oversight committees, " he also said.
He stressed that the nation should be thankful to late Prime Ministers D. S. Senanayake, S.W.R.D. Bandaranaike, John Kotelawala, leaders such as G. G. Ponnambalam and N. M. Perera who strived to safeguard parliamentary democracy. (Yohan Perera and Ajith Siriwardana)