---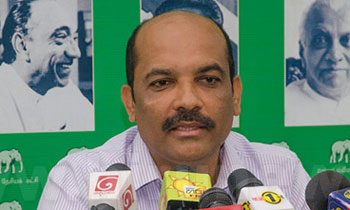 We don't mind President Sirisena using his sword against wrongdoers including the ones who responsible for allege deforestation in Pukkulam as requested by the environmentalists, as our hands are clean, State Minister of Irrigation Palitha Range Bandara said today.
Responding to the recent allegations leveled against him on deforestation in Pukkulam, the State Minister said he had done nothing illegal.
"We will face the sword fearlessly as we haven't done anything illegal in Pukkulam," he said.
The State Minister said none of the allegations leveled by the Ven.Pahiyangala Ananda Sagara Thera or the other environmentalists can be proven as no such deforestation has been carried out in the said area.
He also added that he didn't mind even if he is taken to Hague as he could used the opportunity to complain against the NGO's that make false allegations and expose their true colours.
Recently in a press briefing, Environmentalists led by Pahiyangala Ananda Sagara Thera charged that the State Minister Palitha Range Bandara was behind the alleged deforestation in Pukkulam which he had said is belonged to Wilpattu National Park.
However, State Minister denied the fact and said Pookulam is outside the boundary of the forest reserve. (Thilanka Kanakarathna)