---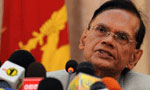 The joint opposition today denied rumours that it had held talks with China on a regime change in Sri Lanka, but reiterated that it was opposed to the sale of the country's national resources.
JO member G.L. Peiris said they welcomed investments coming into the country but that however there was a difference between the sale of national assets and investments.
"Former president Mahinda Rajapsksa's government was consistent in its policy towards China, but the move to hand over 15,000 acres of land to China may lead to public discontent," he said and added that the government should stick to the original proposal of allocating 750 acres for investments in the Hambantota district.
Meanwhile, JO member Bandula Gunawardane said Prime Minister Ranil Wickremesinghe should reveal to the country why he ordered the cancellation of a foreign deal relating to the Seylan Bank in the share market.
"Rs.1.1 billion shares or a 7.5 per cent stake in Seylan Bank, owned by the Bank of Ceylon was sold to a foreign institution. However, Mr. Wickremesinghe had directed that this deal be reversed," he said. (Kalathma Jayawardhane)