---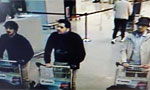 Turkish officials said Wednesday the country previously deported one of the suspected Brussels bombers, and authorities pressed the search for at least one other suspect in the deadly attack.
Belgium's chief prosecutor Frederic Van Leeuw earlier identified two brothers, Khalid and Ibrahim El Bakraoui, as suspected suicide bombers in the rush-hour attacks, which killed 31 people and injured at least 270. Ibrahim, 29, blew himself up at the city's Zaventem Airport, while Khalid, 27, detonated an explosive in the metro system, authorities said.
The so-called Islamic State claimed responsibility for the bombings, which came four days after police arrested Salah Abdeslam, a suspect in last year's Paris terror attacks, in Brussels. Tuesday's bombings rocked Belgium's capital and prompted reviews of security at airports and public transportation hubs around the world.
Authorities searched for 24-year-old Najim Laachraoui, who police sources named as a possible suspect, NBC News reported. It was not clear whether he was one of three men in an airport surveillance photo showing suspects.
Multiple reports Wednesday said Laachraoui, a suspected bombmaker in the Paris attacks, was the other airport suicide bomber. NBC News has not been able to confirm those reports. (cnbc)