---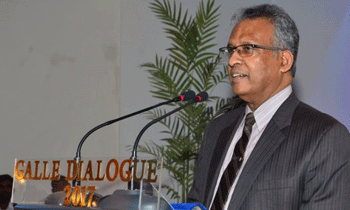 Foreign Secretary Prasad Kariyawasam said that the modern post-conflict Sri Lanka stands for a peaceful Indian Ocean which includes peaceful rules-based settlement of disputes.
He expressed these views while addressing the Galle Dialogue Maritime Conference on Monday.
He said Sri Lanka also stands for a rules-based order which follows international norms and practices, freedom of navigation and overflight and safe sea lanes that allow for the free flow of goods both for Sri Lanka and partner nations.
Meanwhile, Mr. Kariyawasam said combating drug trafficking, human trafficking, arms smuggling and piracy require attention for better maritime management and security in the maritime domain around us.
He said it was important for the world's Navies and maritime experts to develop and implement effective programmes to educate citizens about the importance of the oceans.
"As the maritime realm becomes increasingly more significant in the context of our nation's development, I think it is vital that the Navy gets more involved in task of implementing our Nation's renewed and progressive vision for itself as a reconciled, peaceful, stable, and prosperous nation," he said.
He said that it was also necessary that the public considers the Navy as an integral part of our Nation's core identity.
"It must be considered as an Institution that is of service not only to the people of Sri Lanka, but to the world beyond; a force for good, carrying Sri Lanka's flag in collaborative missions in the region and beyond, out there in the high seas – making sea lanes safer for shipping, for the free flow of goods, participating in humanitarian, evacuation and disaster relief operations, and contributing to regional and global security," Mr. Kariyawasam said.
He said the Navy must view itself, and the Nation must consider the Navy, as an extension of Sri Lanka's diplomacy of peace and goodwill.