---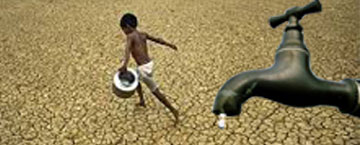 The Water Resources and Drainage Board said yesterday it might be compelled to restrict the supply of water in the event that the drought continues.
"We have not decided to impose water cuts just yet but may have to do so if the need arises," a Water Board spokesman said.
He said there is a shortage of drinking water in many parts of the country and arrangements have been made to provide drinking water to the drought-affected people.
The Disaster Management Centre (DMC) said more than 620,000 people from 167,213 families in 20 districts have been affected by the drought with the worst affected districts being Polonnaruwa with some 130,413 people, Kalutara with some 79,632 and Ampara with some 63,636 suffering without drinking water.
Meanwhile the Meteorology Department said the prevailing dry weather condition over the island is expected to ease somewhat from October 13. "The atmospheric conditions are getting favorable with afternoon thundershowers, particularly in the Eastern, Northern and North-Central Provinces," the Met Department said in its weather forecast. Fairly strong winds were expected at times which could increase to 50 kmph. Light showers are expected at few places in the Western, Sabaragamuwa and Central Provinces and in the Galle and Matara districts.
It said the temperature in many areas had continued to rise, at times as high as 38.1 degrees Celsius recorded in Moneragala yesterday. Temperature in Trincomalee and Polonanaruwa exceeded 37 degrees Celsius while it exceeded 36 degrees Celsius in Mathala and Vavuniya. (Yohan Perera)