---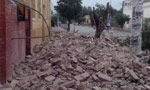 Thirteen students were injured when a parapet wall of a school collapsed on them at Lunugala in Badulla this evening, Police said.
They said the students were on their way to attend a tuition class when the accident occurred.
The injured students had been admitted to the Badulla General Hospital and the Lunugala District Hospital.