---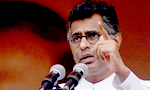 The Megapolis and Western Development Ministry was not behind Sunday night's removal of the walking track at Mabola in Wattala, Minister Patali Champika Ranawaka said today.
He said the walking track was not constructed by his ministry and hoped that those who removed it would take measures to rebuild it.
"The media reported on Sunday about the removal of a walking track in Mabola. This was not constructed by our ministry or maintained by us. The track has been abandoned in the recent past and we only renovated it," the minster told the gathering at the opening ceremony of the construction of the Kottawa Bus Terminal.
He said there was a request from the Lands Ministry to create a road along the canal by the walking track. Accordingly, the Land Reclamation and Development Corporation had responded saying there was no issue about building a road without hindering the opportunity to develop the canal in the future.
"We never said that the walking track should be destroyed," he said.
He said he hoped those who removed the track would rebuild it and hand it over to the people. "We request the media to report the truth without tarnishing the image of officials because these kinds of incidents happen in various places in the country," he said. (Lahiru Pothmulla)
Video by Richan