---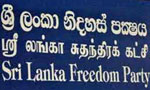 The vote on the motion to initiate the Constitution making process had been postponed till Sri Lanka Freedom Party (SLFP) headed by President Maitripala Sirisena approved its amended version at its Central Committee in a week, it is learnt.
It was discussed at Tuesday's Cabinet meeting chaired by the President.
The motion seeks to appoint a committee of the entire House called 'Constitutional Assembly' to work out the new Constitution.
However, SLFP submitted amendments to the original version saying the preamble of the motion should be changed to simplify the entire process.
Also, the party insisted in its amendments, that it should be a committee governed fully by the parliamentary Standing Orders only.
Afterwards, Prime Minister Ranil Wickremesinghe presented an amended version of the motion.
Yet, Ministers S.B. Dissanayake and Duminda Dissanayake, who spoke on behalf of the SLFP, said the party had to get approval of its CC for the amended version.
Until then, it was decided to postpone the vote.
Parliament debated the motion yet on Tuesday and Wednesday. After that, it was adjourned. Initially, the government tried to initiate the Constitution making process in coincidence with President Sirisena's first anniversary in office. (Kelum Bandara)