---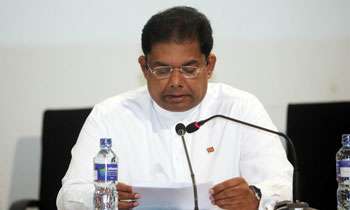 The cabinet of the UNF government would be sworn in, in the next couple of days and State and Deputy Ministers next week, former Minister and Cabinet Spokesman Gayantha Karunathilaka said today.
He said discussions were underway within the party seniors on how cabinet portfolios were allocated led by Prime Minister Ranil Wickremesinghe, as there were dissenting views among party members on key portfolios like Finance and Planning.
The Government would try its best to give UNF Ministers the same portfolios they held in the Yahapalana Government to minimize dissatisfaction among them.
"Our main concern is to pass a 'Vote on Account' (VOA) soon after the swearing in of the new cabinet. I hope we would be able to pass a VoA in Parliament next week to cover the expenses of the first two or three months of 2019," he said.
"The budget 2019 will be presented before the Sinhala – Hindu New Year in April," Mr Karunatilaka said.
He added that former Finance Minister Mangala Samaraweera had almost completed the budget 2019 when the Government was changed suddenly on October 26 after the removal of Prime Minister Wickremesinghe.
Commenting on the discussions with members of the UPFA, SLFP and SLPP, Mr Karunathilaka said whoever decided to support the Government he or she must get the UNF membership before obtaining a ministerial position.
"There is a huge opposition within the UNF towards certain members of the UPFA and as such, they would not be accepted to the UNF under any circumstances," he said.
"Some UNF members have also urged the party leadership not to give key portfolios to certain UNF members as well," he said.
"More than a dozen MPs have consented to extend their support to the UNF. I can assure them that only their political future will not be in danger if they consented to support the UNF Government because we have determined to record an absolute victory at the Presidential and Parliamentary polls next year.
"We will begin our election campaigns for the forthcoming Provincial Councils, Presidential and Parliamentary Polls from January," he stressed.
Mr Karunathilaka added that the budget 2019 would bring a big package of benefits and relieves to low-income families to bring down the cost of living drastically. (Sandun A Jayasekera)