---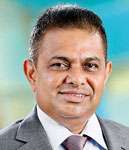 SriLankan Airlines today announced the appointment of Vipula Gunatilleka as the interim Group CEO.
Gunatilleka was first appointed Group Chief Operating (GCO) and Finance Officer (FO) of SriLankan Airlines with effect from August 1, 2018.
Prior to joining SriLankan, Gunatilleka was a board member and the CFO of TAAG Angola Airlines.
Gunatilleka held the position of Chief Financial Officer (CFO) at SriLankan Airlines when the airline was managed by Emirates and played a pivotal role during the management transition from Emirates Airline to the Government of Sri Lanka.