---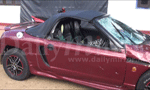 The Thelikada Police had informed the Court that it would soon arrest five more villagers, who protested over a release of a 17-year-old nephew of Opposition MP Rohitha Abeygunawardena, in connection with a fatal accident in Hikkaduwa..
Around 500 villagers in Gonapeenuwala, Hikkaduwa took to the streets in a protest against the release of the under-aged suspect, who was charged in the fatal accident which killed a 27-year-old and a 28-year-old in September, 2016.
The Police later arrested three of the protesters, on charges of public nuisance.
However, when the case was taken up in court recently, the Police informed court that they were preparing to arrest five more protesters.
The villagers alleged the dead youths were subjected to grave injustice because those who are responsible for the deaths were released on bail.
Preliminary investigations had revealed that at the time of the accident five persons were travelling in a speeding sports car.
The car was driven by the under-aged suspect Navin Kanishka Abeygunawardena who was under the influence of alcohol and did not have a driving licence. (Jayakantha Liyanage)